Posted on December 22nd, 2010 by
HighVoltage
in
Big Boi
,
Black Milk
,
Bonobo
,
Damian Marley
,
Homeboy Sandman
,
Kanye West
,
Live Music Downloads
,
Madlib
,
Nas
,
Shad
,
The Roots
,
Zion I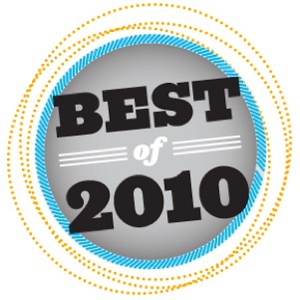 2010 was another great year for music and as the new year approaches, its time to look back at the best albums to come out in 2010.  As with last year, since the focus of this site is live music and we're discussing studio albums, we will provide a new live song from each artist who made our list.
1.   BONOBO – BLACK SANDS
Bonobo may not be a household name, but Black Sands is the best album he has released, which speaks volumes considering the quality of his discography.  Its chill out vibes and head nodding compositions are crafted masterfully and while its mostly an instrumental album, Andreya Triana's vocal appearances are a welcome addition.  Do yourself a favor and check this classic album out immediately if you slept on it.
2.   THE ROOTS – HOW I GOT OVER
The antithesis to the aggressive tone of Rising Down, The Roots crafted a masterpiece in HIGO. The Legendary have their 'A' game right now and with many new projects on the rise and gaining fans from the Late Night faithful, they are in the best form of their career heading into the new year.
3.   MADLIB – MILES AWAY: THE LAST ELECTRO-ACOUSTIC SPACE JAZZ & PERCUSSION ENSEMBLE
Madlib has created his best, most daring and original work to date with Miles Away. Its jazz fused with a super funky hip-hop groove, brought to life by some incredible musicians.  This album has pushed Madlib beyond just a great hip-hop producer, but has made him a staple in the modern jazz scene today.
4.   HOMEBOY SANDMAN – THE GOOD SUN
Homeboy Sandman may be an acquired taste for some, but the man can rap his ass off and his wordplay may only be rivaled by the likes of Pharoahe Monch.  The Good Sun is a refreshing side of hip-hop that you just don't see these days, where the creativeness of the rhymes is at the forefront.
5.   DAMIAN MARLEY & NAS – DISTANT RELATIVES
When Nas and Damian Marley teamed up for Road To Zion back in 2005, it was clear they had great chemistry, and I hoped one day they would do a full album together.  That day came finally came 5 years later with the release of Distant Relatives.  The album is a great blend of hip-hop and reggae with Africa serving as the main backdrop.  The Marley's production fits Nas perfectly and hopefully it will influence his future releases.
6.   SHAD – TSOL
When Canadain rappers come to mind, the usual suspects are Drake, K'Naan and K-Os… but the best lyricist from north of the border is easily Shad.  TSOL has everything you look for in a hip-hop record-  beats, lyrics, content, etc.  "Yaa I Get It" hands down notches Shad K the honors for verse of the year as he blacks out from start to finish.
7.   ZION I – ATOMIC CLOCK
There are just a handful of groups in hip-hop with the level of consistency and quality that Zion I has put together over their career.  Each of their albums has its own style and identity, with Atomic Clock taking listeners on a moody journey of reggae and dub inspired hip hop, with lush live instruments and heavy synths.  Amp Live may be at his best on this album and its a shame it will likely be overlooked in many Top 10 lists for the year.
8.   BLACK MILK – ALBUM OF THE YEAR
Its hard to follow up Tronic, the best hip-hop album of '08, but Black Milk certainly made an impression this year by teaming up with the beastly Daru Jones and funk band WillSessions to add layers of live instruments to his already ridiculous beats.  AOTY is at its best when it dances on the boundaries of hip-hop, such as the marching-band meets hip-hop banger overtones of "Round of Applause".
9.   BIG BOI – SIR LUCIOUS LEFT FOOT:  THE SON OF CHICO DUSTY
Big Boi's first solo album was finally released earlier this year after nearly 3 years of recording.  The album hits strong with booming bass, 808s and live horns, drenched in the soul and funk inspired hip-hop we have all come to know and love out of the Dungeon Family.  Sir Lucious Left Foot definitely carries in the tradition of Outkast's legacy.
iTunes | Amazon
10.   KANYE WEST – MY BEAUTIFUL DARK TWISTED FANTASY
Many hip-hop fans consider MBDTF to be Mr. West's best work to date and while the album does have a couple of drawbacks, its sonically epic and is a great comeback for one of the leaders in the genre.  Listening to the album, you can almost visualize how it would be performed live, which we will finally get to experience in 2011.
Honorable Mention:
Danny Brown – The Hybrid
Blitz The Ambassador – StereoLive
Reflection Eternal – Revolutions Per Minute
Fat Freddy's Drop – Live @ The Roundhouse
John Legend & The Roots – Wake Up!
Gorillaz – Plastic Beach
2 Hungry Bros + 8thw1 – No Room For Dessert
Top 10 Mixtapes:
Wale – More About Nothing
K-Os – The Anchorman Mixtape
Cobe Obeah – Song of The Starz
P.So – Moontones
Das Racist – Sit Down, Man
The Illz – In Between Video Series Mixtape
B.o.B. – May 25th
Outasight – Never Say Never
P.So & 8thw1 – Suicide By Jellyfish
J. Cole – Friday Night Lights